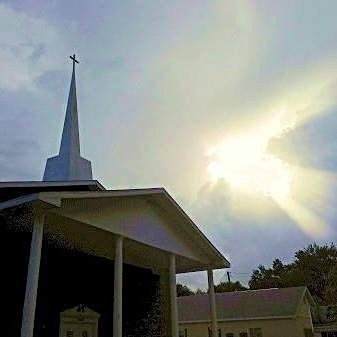 There is no Gulf Ridge Park Baptist Church
This Named Website is no longer operational.
AVOID THE SINKHOLES OF THE WORLD
Sinkholes can happen unexpectedly and can be very devastating in Florida. Remember sometime about four years ago, a sinkhole opened and swallowed a man in his home? Unfortunately he was not found. Jesus said a wise man builds his house (life) upon a rock, so when the winds and storms assail, the house doesn't come crashing down around him and his family. The foolish man builds upon the sand, when the storms come to this house, it falls, and "Great was the fall of it." Matthew 7:24-28. This is a graphic picture of a 'sinkhole'.

I want to encourage you to build your life upon the solid 'Rock' of Jesus Christ. When the storms of life come and threaten, and they will…your life can remain steadfast and sure in the promise of His presence. Do you "know" you are saved and your life is hidden with Christ in God?
Paul tells us in 1 Corinthians 3:10-15 that our service for Jesus will one day be revealed. Everyone's work (as a Believer) will be brought before the Lord and we will give account as to our faith and our faithful service for His kingdom as Children of God.
Paul says faithful service is compared to gold, silver, precious stones. This doesn't mean quantity of deeds done or great amounts of dollars given, it means Christ will judge us by our motives and faithfulness in the abilities He has given to us. We all don't have the same gifts nor resources. Remember the widow and the two mites (less than a penny) she gave? Jesus said she gave more than they all, because she gave (willingly) all she had (motive). We want to be careful not to measure out to Jesus what little we can, nor place a time limit on our faithfulness. Christ calls us to a 'lifetime' of service and then rewards our faithfulness to Him.

Paul also says there are other materials one can use to build on this great foundation: wood, hay, stubble; this amounts to the least (give sparingly), the lazy (serve occasionally), and the laid-back (worship when it's convenient). One may be saved, but Paul says if the work of these is burned, "He shall suffer loss: but he himself shall be saved; yet so as by fire". What this unfortunately means is, one may be saved but in eternity will have nothing to offer to Christ but a misspent life. My hope and prayer for myself and for each of you, is that you will have many great, and precious gifts to offer Jesus for your service to Him.

The 'sinkhole' faith I mentioned is like those who have been saved but have allowed the world and other pleasures to swallow them up. They barely hear the wooing of the Holy Spirit calling out to them to return to Him. Our Lord offers us so much in the way of blessings and pleasures in His service. I can only tell you about it, but for it to become reality, one must experience it for themselves. I want to help you discover the blessings of service to our Lord Jesus out of love. I want to "encourage" you to climb out of that 'sinkhole' if you have fallen in and allow Jesus to show you "Great and Mighty Things" which you could only imagine.